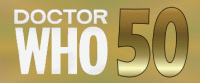 A new job ad run by the BBC seems to suggests that Auntie may be planning a Doctor Who docu-drama as part of the Doctor Who 50th Anniversary celebrations. The role is for a single drama on BBC Two, with the producer based at the new Roath Lock Studios in Cardiff Bay for a five-month term.
Few other details of the project are known at present, but "docudramas" following iconic careers and film/TV developments have become common in recent years. The possibility of Doctor Who becoming such a subject was broached on The Graham Norton Show back on 11th February, when actor/writer Mark Gatiss was asked if he was involved in such a project – to which he avoided a direct answer to the question and said "I'm writing on the back of my hand, now, what a good idea that would be!" Gatiss previously contributed to 1999's Doctor Who Night on BBC2, including a spoof documentary on commissioning the series, The Pitch of Fear.
So, a drama based on the creation and early years of Doctor Who? The Beeb certainly seems fond of '60s-set dramatisations these days, what with all those biographies of '60s TV and media stars (Morcambe & Wise, Hughie Green, Jean Shrimpton etc.
If you fancy a go at the job, too bad- applications closed Wednesday: BBC Careers
Source: SFX, Doctor Who News